Introduction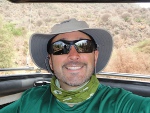 Hello, my name is Jason Harper and you've found my blog about Tanzania and climbing Mt. Kilimanjaro. I am not a blogger or a writer but I did want to provide family and friends a place to view my Kilimanjaro experience and pictures in a chronological sequence. This is what I came up with.
Update Sunday, November 20 2011
I am finally getting back to adding more journal notes; work has a way of taking up most of my free time. My goal is to finish all sections by the end of Thanksgiving break. I added four new sections today: Machame, Shira, Barranco and Karanga. Four more sections to get plus a nice write up about Blue Rhino Expeditions.
Update Saturday, October 1 2011
Slowly adding journal links. ALL Video Files and pictures are now uploaded. Journal notes are still a work in progress but I have added a journal introduction, Travel and Safari notes. I will be working on the trek notes over the next week or so.
Update Sunday, September 25 2011
All pictures and several video files have been posted. Journal notes are still a work in progress but I have added a journal introduction.
Update Thursday, September 22 2011
Success! We reached Uhuru Peak around 8:00 AM Sunday morning. I will be adding journal notes and pictures over the weekend.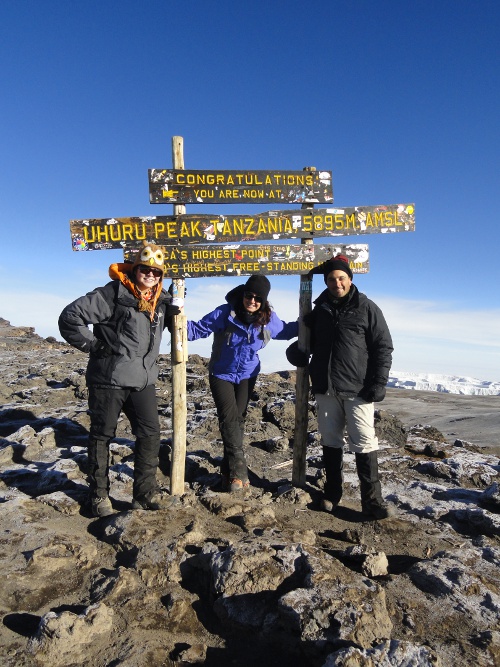 About Kilimanjaro
Kilimanjaro is the highest mountain in Africa and fourth highest of the Seven Summits. It is considered the tallest freestanding mountain in the world.
Kilimanjaro has five common routes to its highest summit: Marangu Route; Machame Route; Rongai Route; Lemosho Route; and Mweka Route. Machame and Lemosho routes are popular and scenic. Marangu is easiest and busy although the last ascent to the crater rim is difficult.
Climbing Kilimanjaro requires no technical climbing or mountaineering experience. The biggest challenge and danger is the high altitude. Climbers die from improper acclimatization and altitude sickness rather than falls.
Kilimanjaro is composed of three distinct volcanic cones: Kibo 19,340 feet (5,895 meters); Mawenzi 16,896 feet (5,149 meters); and Shira 13,000 feet (3,962 meters). Uhuru Peak is the highest summit on the crater rim of Kibo.
Team Members
I traveled, safaried and hiked with my sister Emily Harper and one of her friends Susan Schroeder. We had plenty of help also, with 24 porters, camp crew and guides assisting us!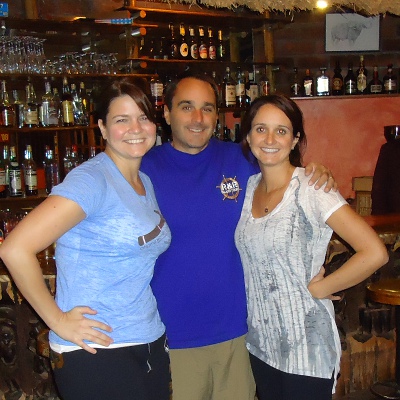 Machame Route
Of the Kilimanjaro routes, the Machame route is the most popular. It is the route of choice amongst most climbers because it provides spectacular views and a variety of habitats. The route is also known as the "whiskey" route, given its reputation for being a tough climb, relative to the Marangu route, or the "Coca Cola" route. Unlike the gradual incline and hut accomodations found on the Marangu Route, the climbers on Machame hike steeper trails, for longer distances, while sleeping in tents.
The trek begins at Machame Gate, located in the southern base of mountain, within its lush, fertile rainforest. The route heads toward the Shira Plateau, before circling along the southern circuit halfway around the mountain, exposing the climber to great views from all angles. The approach to the summit is made from the east, and the descent follows the Mweka trail.
The Machame Route is approximately 50 miles from gate to gate. It is designed for physically fit people with some hiking experience. See Itinerary for map of Machame route circuit.
Blue Rhino Expeditions
We chose Blue Rhino Expeditions as our outfitter. Susan is friends and works with Dr. Redwood so we feel like we are in very good hands. Blue Rhino Expeditions is a partnership between Edward Ernest Kutingala and William M. Redwood founded in 2007 offering luxury safaris throughout the region of East Africa as well as multiple Kilimanjaro climb routes. Blue Rhino Expeditions specialize in exclusive climbs; all currently led by expedition leaders that are highly experienced and fully certified Kilimanjaro mountain guides, and assistant guides which enables each guest to walk at their own pace thus allowing them to cater more for individual climbers needs.